City of Jasper News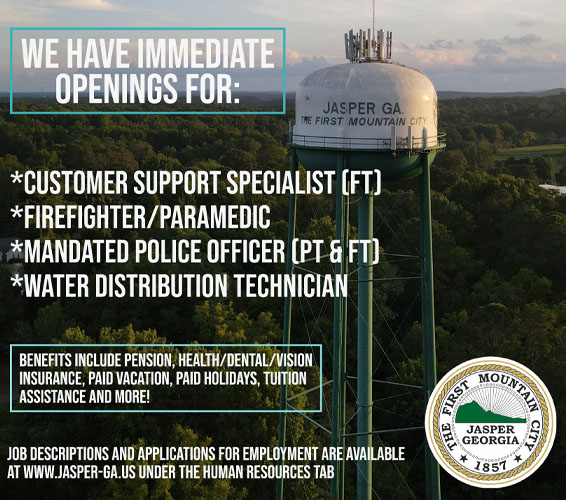 JUNE 27, 2023
THE CITY OF JASPER IS NOW ACCEPTING APPLICATIONS

FT Customer Support Specialist, Mandated Police Officer, Part Time Mandated Police Office, FT Firefighter Paramedic, and Water Distribution Technician
The City of Jasper is now accepting applications for the following positions:

(1) FT Customer Support Specialist – 40 hours a week, Mon – Fri 8 – 5pm / Full Benefits – Paid Weekly

(1) Mandated Police Officer – Starting pay is $46,912.00 – 84 hours within a 2- week period – paid bi-weekly, Night shift/Split shift 1 hour incentive at regular pay per night.

(2) Part Time Mandated Police Officer - $21.43 hour/ Paid bi-weekly (No benefits)

(1) FT Firefighter Paramedic - $56,572.78 - 24 hr on/ 48hr off schedule paid bi-weekly

(1) Water Distribution Technician – Starting pay $16.00 hour – 40 hours a week- paid weekly, rotating 7 days on call with additional 7 hours at straight time nights and weekends required for shift differential.

Positions will be open until July 14th. If your application is chosen to move forward you will receive an email (that is listed on your application). Email is our prime way of communication as some phone carriers block our main line number.

Documentation is required for education and experience to determine exact pay. All positions will be provided a uniform to work with exception to admin position.

Interested applicants can find detailed job descriptions on our webpage under Human Resources. Fill out the appropriate application (police is the only separate one- everyone else fill out the main city application), provide a cover letter and resume. All references, Professional and Personal, should not be related to you. A complete and detailed application will be considered over one that is incomplete. All positions require a valid driver's license as you will be driving a city owned vehicle while on the clock. Police officers will be given a vehicle to take home (with a maximum radius milage).

Benefits for Full Time positions include Medical – Tier amounts, Dental – 100% employer paid for employee only, Vision – Tier amounts, Short-term – 60% weekly income, Long-term – 60% weekly income and AD&D Insurance. Employer-Paid Retirement, Employer-Paid Life Insurance (Employee-25k, Spouse $5k, Children $2500. Per child), Employer-Paid Police Officer Annuity and Benefit of GA retirement (POAB) and GA Firefighter Pension, Hartford Firefighter Cancer Coverage. Accrual paid Sick, Vacation and (13) Holidays Leave.

Once you have completed these requests submit them to Stacy Johnson, Human Resources at sjohnson@jasper-ga.us and direct line is 706-301-5004 if you have any further questions.